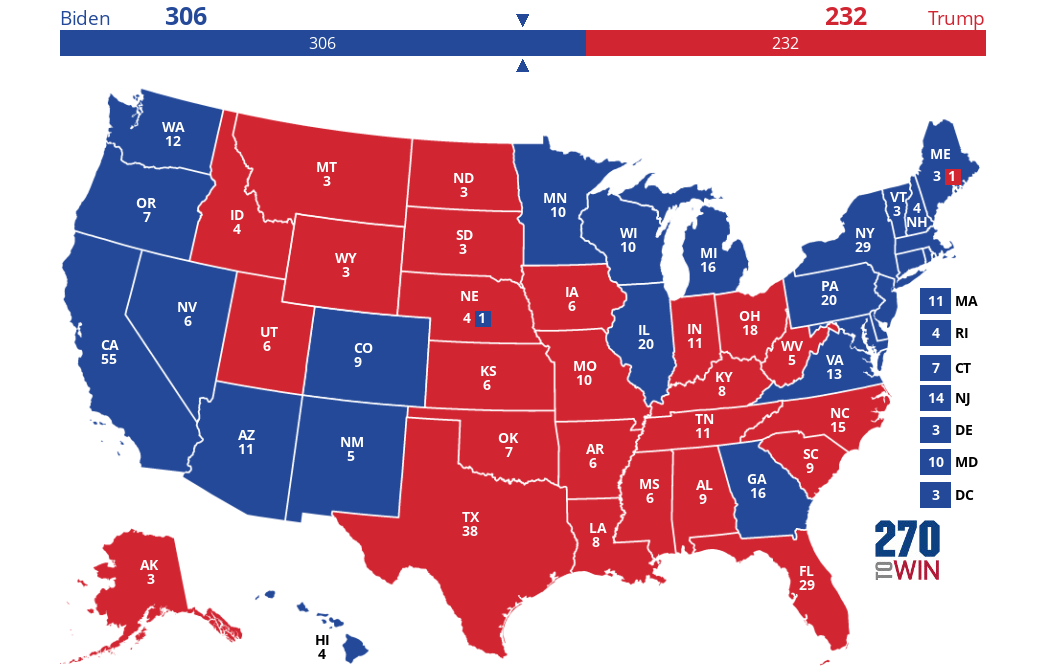 Click the map to create your own at
270toWin.com
The alt-left, socialists who have run interference against the Democratic party on behalf of Donald Trump and the Republicans are feeling the heat.
In the wake of President-elect Biden's thumping victory over Trump, centrist and moderate Democrats are feeling emboldened to speak out against the party's destructive, far-left flank, and it's making an impact. Democrats who want the party to govern from the broad center have rightly pointed to the alt-left's divisive politics and sloganeering as a cause for downballot underperformance for the party, and that is tearing at the alt-left. They have alternately engaged in expressing faux outrage against Biden's staff announcements, demanding that Democrats make Facebook richer, and holding protest-style rallies to "remind" Biden of his commitments to a bold climate change agenda.
In their latest salvo, the alt-left has returned to turning the blame on Joe Biden for the losses Democrats suffered downballot, this time blaming it on the Biden-Harris campaign's cautious approach to in-person canvassing in the middle of a deadly pandemic. The go-to socialist publication Jacobin claimed this weekend that the lack of a full-fledged, on-the-ground, door-knocking strategy on the part of Joe Biden was irresponsible ceding of the grounds to Republicans, who bragged about their in-person campaign strategy.
Clearly aware that Biden's campaign made difficult decisions about in-person canvassing to protect their staff and volunteers (as evidenced by the fact that they did do in-person canvassing eventually) - as well as voters - from the coronavirus until a fully implementable strategy to keep them safe could be realized on the ground, Jacobin's Ross Barkan prefaces the hitpiece by arguing that "there was little evidence canvassers" were at risk from the coronavirus. Even though Barkan threw in an obligatory "properly masked" to qualify his arguments for canvassing, he held up Republicans as the model for on-the-ground campaigning this cycle.
Republicans certainly did a lot more in-person canvassing than Democrats, and they got their volunteers and staff sick. Days before the Biden campaign announced they had fully implemented the logistics to get Democratic volunteers out there safely, the top Republican party official, RNC Chair Ronna Romney McDaniel, tested positive for the coronavirus. As I noted at the time, McDaniel's diagnosis had come after her public boasts and photo arrays showing her at GOP canvass training events.
Holding up the GOP and the Trump campaign as models for a campaign is absolutely reprehensible, and it doesn't get any better if the praise is deserved for Trump's on-the ground tactics rather than for his incendiary rhetoric. Donald Trump's campaign did not care if they were putting in danger their own staff, volunteers, supporters, and voters. By mid-September, at least 30,000 COVID cases had been traced to mask-less, physical-distance-lacking Trump rallies, along with a minimum of 700 deaths. Trump's canvassers were in much the same neighborhoods as his rallies, and community spread followed Trump's campaign trail with near perfection.
The gest of Jacobin's recommendation comes down to this: Joe Biden should have been willing to kill some of his staff, volunteers, supporters and voters in order to keep up with the horrifying display of irresponsibility from the Trump side. Disgusting.
But I digress.
What of the argument that regardless of whether it was a traveling death cult, Trump and Republicans' tactic of early and often canvassing voters in-person while Biden's troops were mostly restricted to doing electronic and phone outreach in fact hurt downballot Democrats?
Even if one arrives at the conclusion that killing people from a deadly pandemic would be worth it to protect some seats in nonpresidential races (which, again, is unfathomable except to people like Donald Trump and alt-leftists, for whom political goals are more important than human life), the data on whether it would have resulted in additional seats is murky. Let's took at the US Senate battlegrounds, for example.
Jacobin credits Biden's impressive victory - something they casually minimize as 'survival' - to "universal name recognition and a massive budget for television and digital advertisements." Using the same logic, well-known Democrats in several US Senate races with huge amounts of money should have also won. Most failed to even make their races competitive.
In Texas, MJ Hegar raised $24 million to lose to incumbent Republican John Cornyn by 10 points. Jamie Harrison, an impressive candidate in South Carolina who challenged Sen. Lindsey Graham, also lost by 10 points, despite raising a record-shattering $104 million. Cal Cunningham in North Carolina came within 2 points of unseating Republican incumbent Tom Tillis, but still lost. Cunningham raised $47 million. Amy McGrath in Kentucky raised $88 million and lost to the most unpopular Republican in the country, Mitch McConnell by nearly 20 points. Sara Gideon in Maine lost by 9 points to GOP Sen. Susan Collins, despite raising $69 million. (Data source: Center for Responsive Politics, OpenSecrets.org.)
Of all of these races, MJ Hager in Texas was the only candidate who did not enjoy a large money edge over their Republican opponent.
Who won? So far, only two Democrats - both moderates - have flipped Republican seats in the Senate. John Hickenlooper soundly defeated Cory Gardner in Colorado, and Mark Kelly edged out perennial candidate and appointed Republican Sen. Martha McSally in Arizona for the seat once held by the Late John McCain. On the presidential level, Arizona was the competitive race between the two, and Joe Biden ended up flipping Arizona to the blue column for the first time in 24 years.
The other two races that Democrats made competitive are also moderates in another battleground state Joe Biden flipped blue for the first time since the 1990s, Georgia. Both Jon Osoff and Rev. Raphael Warnock are headed to runoff elections against their Republican incumbent counterparts there to be held on January 5.
At the US Senate level at least, it appears that the only battleground states Democratic candidates won or are in the running are the ones that Joe Biden also flipped at the top of the ticket. And the only people flipping the seats are center-left Democrats in the mold of Joe Biden, not Bernie Sanders-type socialists. Joe Biden's message of unity and centrism worked, as did the message of candidates who matched his.
This confirms that the losses for the Democrats came from messaging as well - and in places where Republicans were successful in tying their Democratic opponents to socialism, the far left, and Bernie Sanders, whether those Democrats deserved it or not. It is publications like Jacobin and politicians like Sanders and a cadre of alt-leftists in Congress that perpetuate the perception that helped GOP maintain its stranglehold on power to the extent that they did so.
This election was not won or lost by door-knocking, from a broad view. It was won and lost on messaging. Joe Biden's message won. Right wing extremist messaging lost, and so did the socialist, alt-left messaging.